I'm dreaming of a raw vegan Christmas… 😉
It's my favourite holiday and the season of festive desserts! Usually I follow my tradition of making Christmas chocolate bark at this time of year but I had to come up with a different plan now that my diet has changed. What could I make that I would love but could also bring to Christmas dinner for a lot of other guests?
I almost went with raw chocolate brownies but decided on bliss ball truffles instead – the perfect finger food to snack on!
These taste like a decadent fudgy brownie, in bite-sized portion! And they are so healthy, you won't believe it!!
There are thousands of bliss ball recipes out there that look amazing but most of them I can't eat. They tend to either contain oats or some kind of grain substitute like coconut or almond flour or else they contain tons of nuts and oil. Nothing wrong with any of that, I'm just looking for a lowfat, mostly fruit-based treat.
In my quest to create a Christmas dessert that both myself and family can indulge on this year, I decided to make my own version of bliss balls: lowfat, chocolately, raw vegan, and holiday festive!
They are also ridiculously easy to make – read on and see!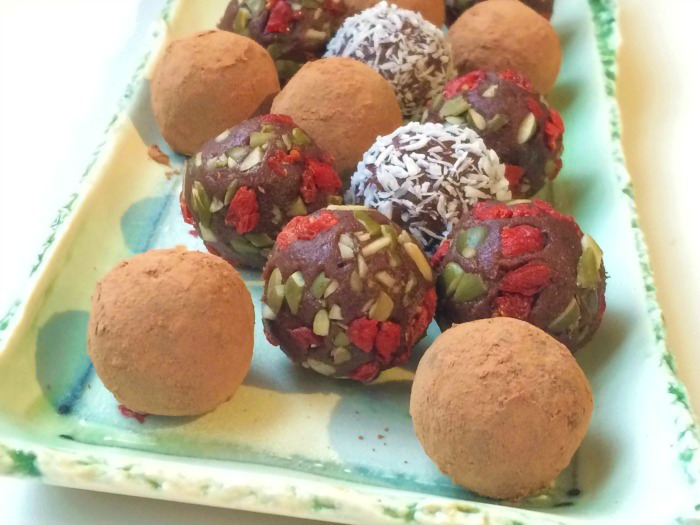 Ingredients:
16 soft, gooey medjool dates
2 tsp raw cacao powder or carob powder
1/2 tsp pumpkin pie spice
few dashes of cinnamon
sprinkle of vanilla powder – optional (If you don't have this, you can use the scrape of a vanilla bean. Vanilla extract would also work but if you're trying to heal something in your body, avoid using extract with alcohol)
*This makes roughly however many dates you use. I was able to make 17 quarter-sized balls from 16 dates*
Toppings to roll in:
raw pumpkin seeds
goji berries
raw shredded coconut
cacao or carob powder
mulberries
pistachios (I didn't have any but they would go well)
coconut sugar & cinnamon
1. Pit your dates and add to a high-speed blender or food processor with the cacao powder, cinnamon, pumpkin pie spice and vanilla. If your dates are not super soft and gooey, you may have to soak them in water for a bit before you're able to blend them. Try to select the gooiest dates for this recipe.
2. Blend until the mixture is smooth and creamy looking.
3. Line a tray with parchment paper. Scoop mixture into a bowl and start rolling into small balls. It will be VERY sticky!! I recommend keeping a small bowl of water nearby so you can wet your hands before rolling each truffle – this will allow you to roll the batter without it sticking to everything it touches.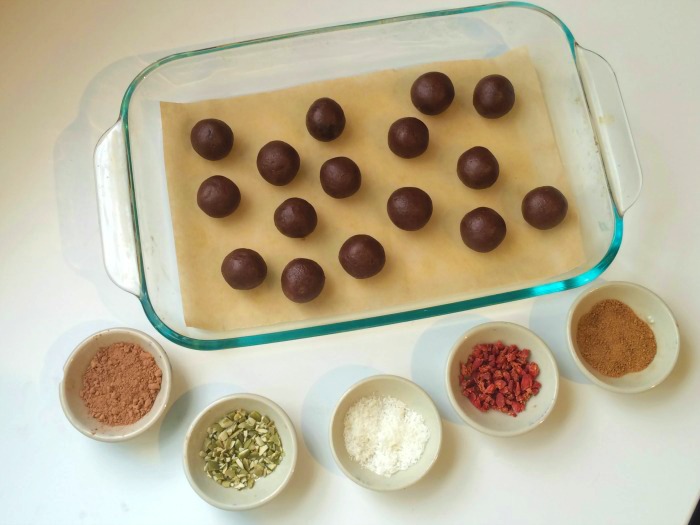 4. Crush or chop your various toppings if needed so they are smaller to work with.
5. Add each topping to a separate bowl and now you can get rolling!
Though not raw, I decided to roll a few of the balls in coconut sugar & cinnamon for friends and family to try – attempting to mimic a snickerdoodles taste for them. We'll see what they say!:)
Once finished, store in the fridge to allow the truffles to firm up until ready to serve. Try not to eat most of them like I did 🙂
Hope you enjoy this Christmas recipe. Happy, healthy holidays!! ♥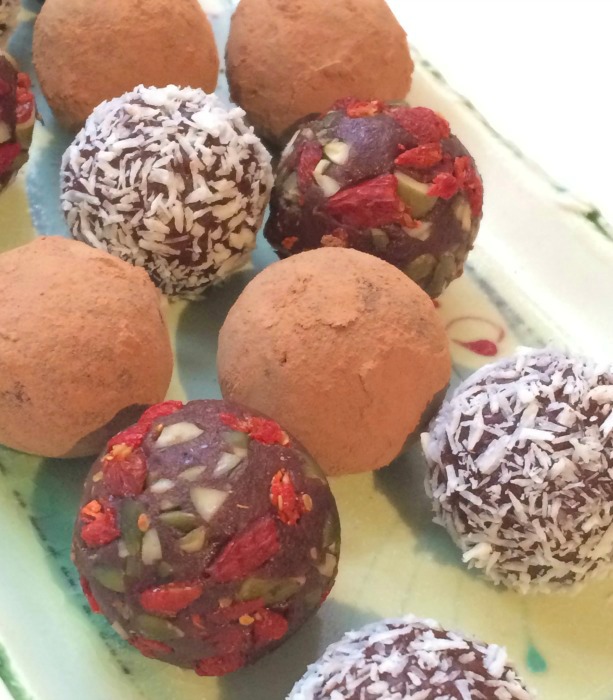 ---