It starts in my throat. A thick knot develops, extending down into my chest, constricting. My breathing becomes short, shallow, and I notice that I'm unintentionally holding my breath. My vision becomes scattered and unfocused, causing me to feel cross-eyed and dizzy. I need to get out.
There's something in the air this week. Can you feel it?
Tiredness. Exhaustion. Sickness. Anxiety. Emotions running high. All these things have been hitting many of my friends recently. Myself included.
This past Sunday's mega lunar eclipse combined with a season full of crazy transitions and change has really turned my emotional switch up full force. I spent last Friday in bed for literally the entire day – I wasn't sick or anything like that, but just felt emotionally exhausted, drained and super reclusive. Intensely feeling the need to pull inward and decompress.
It's at times like this when I'm reminded of my heightened sensitivity.
I've regarded it as a weakness for most of my life and it's only within the past couple years that I've really begun to embrace this in myself, hone my intuition and see it as the gift it truly is.
For a long time, (especially in my early 20s), I felt like I was different from most others my age. And I reeeeaaallly hated it. For example…
Why was it that everyone else my age could go out in the city and party with friends in bars, be super social and "ON" for half the night… while I had to leave after a few hours and go sit in a quiet, dark space to recuperate?
Why did I routinely feel so utterly drained after being in loud, busy spots in the city whilst others seemed fine?
Why was it that so often I felt like I just needed to get away from it all and be by myself or my body would physically start to shut down?
Why was I such a weirdo?
When I stumbled upon the term HSP (Highly Sensitive Person) last year, everything finally clicked for me. What a relief to discover my weirdness has a name… and there are others like that too!! I am not a freak of nature after all 🙂
Being highly sensitive basically means that your senses are more keenly developed than the average person's. Because this means that you're picking up on so many more subtle nuances that most others are not, you often absorb an overload of stimuli that can quickly become overwhelming.
Does this sound like it could be you too? I thought I'd write more about this and extend some open arms to anyone else who might be feeling some of the heightened energy this week as well. Whether you're highly sensitive, just having an off week, or somewhere in-between, you're definitely not alone!
++
Some signs that you might be highly sensitive:
1. Loud, rowdy people & environments cause you to shut down
I am often times a loud, energetic person. I get easily enthusiastic about lots of stuff and if I'm around the right people and environments (say at an 80s dance club) 🙂 I can conjure up enough energy reserves to last me dancing the entire night away.
But then I need to check out. In a HUGE way.
After being socialed out for long periods, it's cave time for me, where I literally need to go into my room and check out from the rest of the world for a day or so. After hibernating like that, I can then re-enter the world feeling like myself again.
2. You prefer doing most things on your own
I say this all the time – I really am my own best friend in a way. Yes, I do have my besties and there are lots of people in my life that I love hanging out with. But I am completely comfortable with doing most things on my own – in fact, I often prefer it. I like going hiking on my own, shopping on my own, traveling on my own, I even like going out to dinner on my own. (Ok that last one sometimes feels a bit awkward.. but that's only because most people NEVER do this!)
3. On that note, you need an ample amount of downtime alone on a regular basis
I've always been envious of people who are able to come home after being out somewhere with friends, crawl into bed and go right to sleep. That will never be me! I need a LOT of time to unwind after being out. Like at least 2-3 hours. And even then, depending on what I've been doing and what time it is, I still may not be able to sleep well because I haven't fully cleared the energy of what I was doing earlier. My sensitivity has led me to make major life adjustments in how I go about my day in order to operate at my best self.
For example, I've learned to refrain from taking yoga or dance classes in the evening, as much as I'd like to, as they shake up my nervous system in a way that keeps me wired for half the night. Truth be told, I can't do very much in the evenings (if I want to avoid major insomnia, that is!)
I had a great life coach this year who was an HSP as well and she was so supportive in encouraging me to embrace my sensitivity instead of fighting against it (which not only creates a ton of stress but doesn't make any of it go away!). She gave me the brilliant idea to transform my evenings into goddess time. Dim lights, candles, soft music, no electronics after 8pm… really setting up a beautiful winding-down ritual that would support my sensitivity. Setting up rituals for myself has been such a godsend, really making all the difference in how I feel on a daily basis. When I take care of myself and nourish my body in this way, my intuition skyrockets.
4. You can't handle watching violence or horror
My friends regularly make fun of me because I cannot watch whole genres of movies as I just get too disturbed. Crime, war, and most horror movies involving extreme violence or torture are completely out for me. They're just a bit too realistic and I can't take all the gun shots and grittiness. (Non-violent horror movies, usually the creature-feature ones are fine and I sometimes have a soft spot for those).
Moreover, I tend to take on the overall 'energetic tone' of whatever film I'm watching so I have to be careful with what I decide to sit through. If a character in a movie is depressed and suicidal for example, that is not a good film for me to watch as I will come away with taking on the emotions.
5. You are super sensitive to lights
Bright florescent lights aren't really pleasant to anyone I think but if you're an HSP, you probably get physical reactions to the intensity of bright lights after a while. In my own room, I very rarely ever turn the ceiling light on because it's just too much. It literally starts to give me a headache if I leave it on and I can't relax. So I light my room with a string of christmas lights 🙂 Warm, simple, beautiful. YES.
6. And you've got a thing against strong smells
This one I consider a blessing as it pretty much ensures that most household products I use are chemical-free and thus, way healthier! There are times when this sensitivity is a bit of a pain to have though… navigating around the smokers or perfume-wearers on the street, car and bus exhaust (the worst!!), and the bug repellent that the exterminator sprays around the studio where I work. These are all major headache-or-nausea-inducers.
7. Your room is your HAVEN
My room is honestly my sanctuary. I feel grateful for it every single day because it's where I go when I need to recharge, be in a quiet space, meditate, write, do my own thing, and just have it set up in a way that really nourishes my wellbeing. From the low lighting to the pastel colours, crystals, inspiration boards… my room is the number 1 thing that brings me back to life after my time out in the city. Without this space, I'm sure I would not be the calm, centered person I usually am!
8. Small things can move you to feel immense JOY, love, excitement, etc.
HSPs are so tuned in to emotions and feel everything deeply. I find that I can become easily swept up in all kinds of small things. For example, seeing a pink sky or hearing a song I love can literally send me into the feeling of full-body bliss. I can't really explain how that happens but it does. For the longest time I just assumed that everyone experienced things like this. That is, until I gradually began noticing around others that their reactions to these same small things were not quite so all-consuming as mine.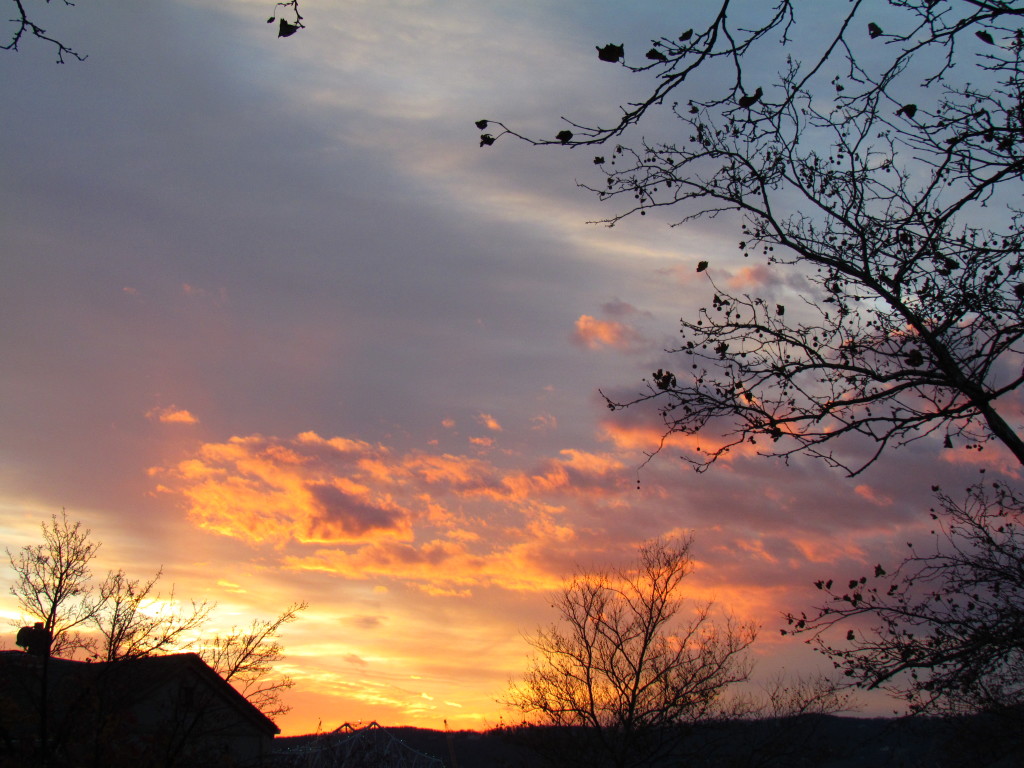 9. When people tell you their problems, you feel them strongly and often vividly
I'll never forget the time a co-worker of mine told me about the car accident she had been in. It happened to be a pretty brutal accident and it was obvious that she needed to still talk about it to process everything. However, I remember the whole time she was talking I was silently begging her to stop. I saw the people in the accident, I felt the injuries, and all of it was making me feel physically sick. If you're an HSP, when friends get emotional, when they tell you their struggles or a sad story, you really get it. You can actually feel their pain.
10. You pick up energy waaay too easily
I've often thought of myself as an energetic chameleon. If I'm around people who are loud and rambunctious, I become the same. If I'm around people who are quiet and calm, I become the same. I mirror and tend to pick up the energy of whoever I'm hanging out with. This is also a big thing that I've had to work on… learning how NOT to take on people's moods and emotions. I've often hung out with angry people who, after a while, no longer feel so angry anymore – because I've picked it up and taken it on for them!
There's a funny useful gift in this also and that is whenever I've gone out to parties or environments where people are drinking, I'm able to pick up this 'drunk energy' from others, despite not even having a sip of alcohol. I literally become intoxicated off the energy that's being put out. A great quality to have that's really come in handy! 🙂
11. And it's good to have that quality because… drugs, alcohol, & even caffeine can have disasterous effects on you
Let's just say I've done my fair share (more than fair share) of hardcore partying in the past and I just don't handle it well. I've learned the hard way that I will never be someone who has more than 1 glass of wine, for example. Otherwise I tend to skip over the drunk feeling and right into the sick-to-my-stomach state. Drinking a cup of coffee is like a bomb to my stomach and recipe for one anxiety-ridden, nauseous trip.
12. You are highly in tune with yourself & others
People who know you well might say you're a little psychic at times or intuitive. I can often 'tune' into other people and get a sense of how they're feeling… even whilst being miles apart! This has been such a gift, helping me to better know and understand people.
This sensitivity can also be used to read situations and determine the best path to take. While I was traveling in British Columbia this past summer, a guy driving by noticed me walking on the side of the road and stopped to ask if I wanted a ride somewhere. This is normally something I NEVER do. We've all heard the horror stories of accepting rides from strangers.
But rather than act from a place of blind fear, in that moment I tuned into my sensitivity and intuition and from that place asked myself if this guy was a good person. It was such a relief to be so in tune with my senses and trust my gut feeling in moments like this! (side note: after receiving the green light from my intuition, I did end up accepting a ride to the beach and had such a lovely time hearing all the life stories this guy shared from having lived all around the world. A great experience and I got to see an area that I otherwise never would have been able to make it to!).
++
It's definitely a challenge at times to be so highly sensitive in a world where sensitivity is perceived as a weakness and generally not understood. I've had to put structures and practices in place to support me during the times when I'm feeling over-energised or over-stimulated.
Among them:
+ setting up a daily self-care routine
+ daily time alone to recharge & refuel
+ ample amounts of time AWAY from electronics and IN nature
+ creating a quiet sanctuary, complete with creature comforts
+ meditating – a total lifesaver
Yet this is perhaps the greatest gift: being highly sensitive has caused me to seek out the environments, the friends, the job, the activities, all things that truly support my well-being. I can't have it any other way as my body is so quick to send me flashing alert messages that can't be ignored when things feel off.
And when I think about it, so many of the things that strongly affect me (for example, too much time on electronics, bright lights, chemical smells, loud chaotic environments, stimulants) aren't really beneficial to any of us. As it turns out, this heightened sensitivity is not a weakness or detriment at all but more of an inner lighthouse, constantly guiding me towards my best and highest path. And for that I am very grateful.
How do you counter stress, exhaustion, or other challenging, chaotic times? Have you been feeling off this week or highly sensitive too? I'd love to hear in the comments below!
---