I recently had my 4th annual Thanksgiving tradition with a good friend of mine and every year I have the fun challenge of creating our dinner menu. I say "challenge" because we've got to put together a main dish that's vegetarian (for him) and gluten/grain-free (for me). AND of course it's got to be made with nourishing, real food ingredients only (no newfangled oils or processed frankenfurky here please!)
It takes some work but any sort of alternative diet forces you to be more creative with cooking – and who doesn't love creating stuff?! I've made some amazing dishes with ingredients that I probably would never have discovered had I not gone searching for other options.
This twist on shepherd's pie was our main dish and although we basically made it up as we went along, it came out absolutely mouth-wateringly delicious.
To me, shepherd's pie is one of the ultimate comfort foods but all too often it's made mushy and bland.
This version is hearty, creamy and flavorful with a zesty kick to liven things up. Cold weather comfort food at its best.
I've made a few shepherd's pies over the years, some vegetarian and some not. This one is hands down the best version yet.
I used Hannah sweet potatoes in place of regular white potatoes for the topping. I liked the subtle sweet taste of the light golden hannahs but this dish would go well with regular potatoes if you can't find them. Kidney beans were used for protein and ground beef can also easily be added if you want to turn this into a meat dish. Although honestly, this recipe rocks without it.
There's some overnight prep work involved in making this version of shepherd's pie but nothing super time-consuming. Just prepare the beans before going to bed and you'll be ready to go the next day. And it is so worth it.
Because this recipe was an experiment, I don't have exact measurements to give for everything but I will use my best estimate. As always, taste as you go along and add more of what you feel is needed/wanted.
Cozy up in a warm blanket and enjoy this zesty dish of winter veggie love!
Ingredients:
3-4 large golden hannah sweet potatoes, chopped into small cubes
Half of a small butternut squash, peeled and chopped into small cubes
1 medium onion, chopped
5 cloves garlic, minced
1 sprig of fresh rosemary, minced
1 bay leaf
5-6 large roma tomatoes, peeled and diced small
about ¾ cup dry red kidney beans
¼ cup corn
¼ cup peas
½ cup diced zucchini and/or yellow squash (I used a mix of both)
1 carrot, chopped
½ cup green beans, cut into 1-inch pieces
1-2 spoonfuls red pepper flakes (depends how spicy you want)
1 ½ tbsp arrowroot powder
3 tbsp butter
sea salt & pepper as needed
grated cheese for topping (I used muenster because that's all we had but other cheeses will work!)
milk or cream (optional)
Beforehand:
Cover kidney beans with warm water and soak overnight in a warm place (12-24 hrs).
Discard the soaking water, rinse and add beans to a pot of fresh water for cooking. Bring beans to a boil, then reduce the heat and simmer for an hour or two covered until tender. Drain and set aside.
Start cooking!
Steam the potatoes until soft (about 15-20 minutes or so). Transfer potatoes to a large mixing bowl. Using a handheld blender, whip the potatoes with a generous pad of butter (about 2 tbsp). Add a dash of milk or cream if you prefer for a wonderfully rich creamy mash. Season to taste with salt and pepper and set aside. Follow the same process to steam and mash your butternut squash. I didn't add butter to the squash mixture but feel free to do so!
In a large saucepan, warm a tbsp of butter over medium heat. Add your onions to sauté until soft (about 6-8 minutes). Add the garlic and sauté for about a minute, then add rosemary, diced tomatoes and bay leaf. Salt and pepper to taste. Let the sauce simmer for about 30 minutes, stirring and smashing the tomatoes occasionally to break them down.
As the flavor develops more, stir in your red pepper flakes. Start with a teaspoonful and add more to taste as needed. (Note: some of the heat from the pepper flakes does cook out by the time the dish comes out of the oven. So you can add a little extra in preparation for that if desired.) As the sauce continues to simmer, take this time to chop and prepare your veggies.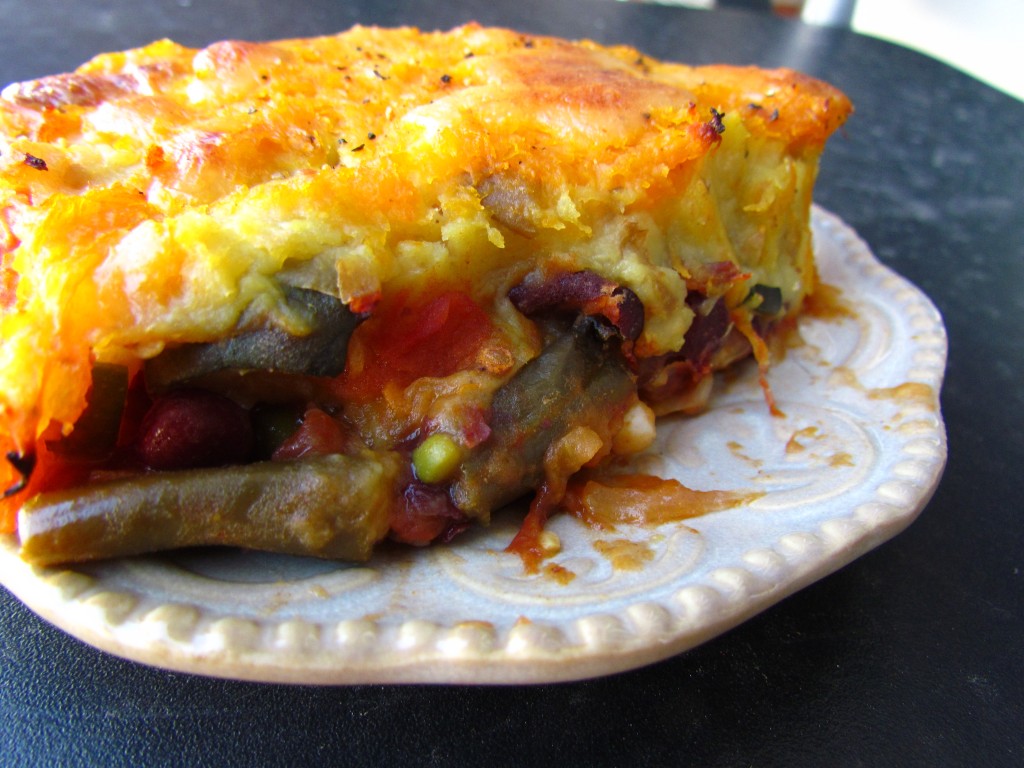 When sauce is ready, remove from heat and mix in the veggies and kidney beans. Stir in the arrowroot powder. Homemade tomato sauce tends to be on the runny side so I used arrowroot as a thickener.
Pour the tomato/veggie mixture into a 9×11 inch baking dish. Spoon a layer of your butternut squash on top and smooth out, followed by the mashed potatoes. Sprinkle with grated cheese and pop into the oven at 400 degrees for about 20-30 minutes or until the top looks nicely crisp & browned. Enjoy!
Do you have a twist on a traditional dish that you've come to absolutely love? Share in the comments below!